Is Human Design For You?
Human Design is a blueprint for intentional living that gives you access to hidden parts of your being which may currently be suppressed.
Conditioning from the outside world teaches us that we all need to act the same. But with the knowledge you gain from a Human Design reading, you'll realize that you have a unique way of interacting with the world that is super important and deeply meaningful!
So if you're wanting to learn how to:
✨ make the best choices for health & wellness ✨
✨ use your energy efficiently ✨
✨ relate to friends, family, and clients better ✨
✨ determine what motivates you on your life path ✨
✨ build love & trust in yourself ✨
✨ make wise decisions based on your unique type & inner authority ✨
✨ stop all the external conditioning and embrace your gifts ✨
and so much more...
then Human Design is for you!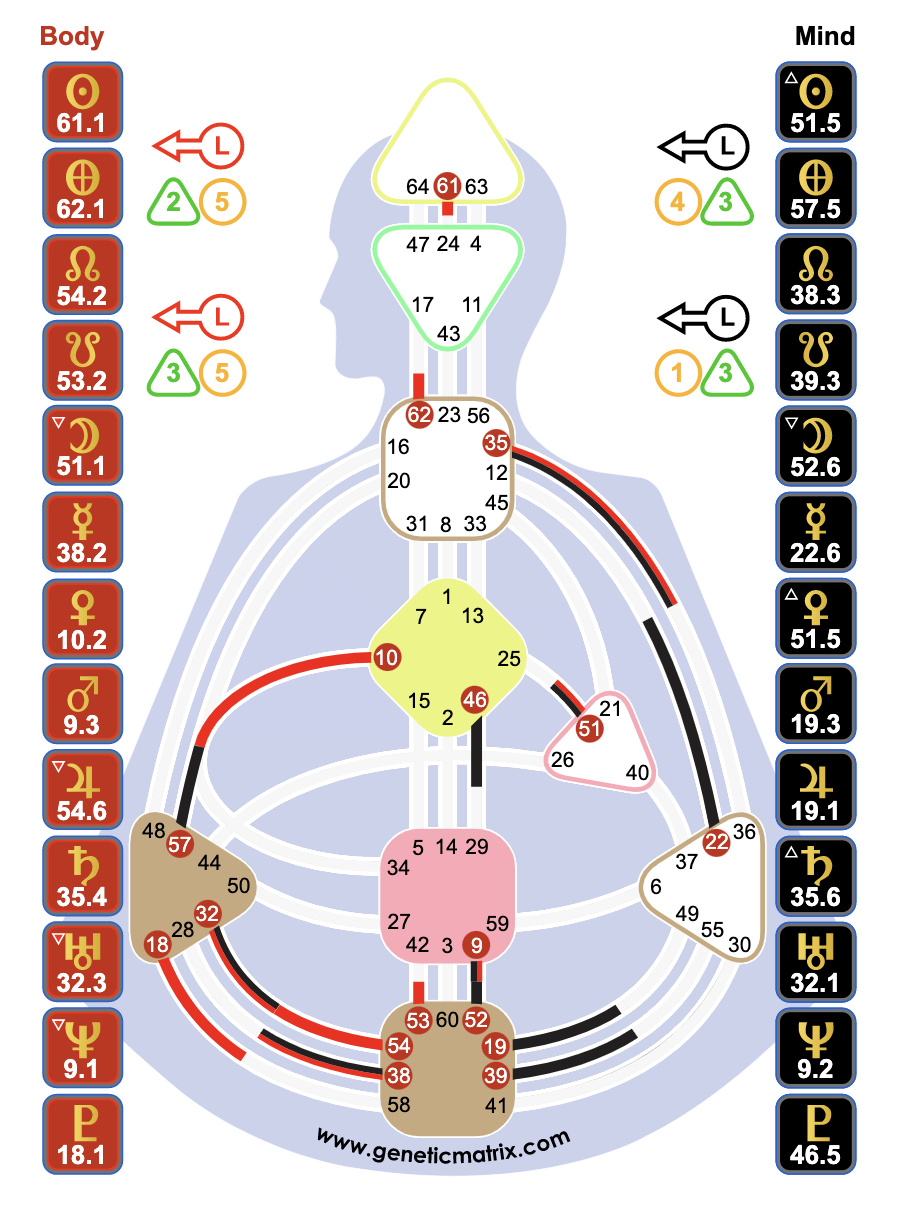 Using your birthdate, birth time, and birth place, we calculate your Human Design mandala and body graph like the example here.
It combines information from the Chakra system, the Kabbalah, Astrology, and the I Ching which tells a story of your uniqueness.
In our 1 hour session, we'll go over the information in your chart briefly. Then we'll discuss in depth your Type, Aura, Authority, Strategy, Profile, and Incarnation Cross.
You'll have one week of support afterwards if more questions come up as you integrate and process the information.
We'll use the Teachable private forum for discussion between you & I, or email if that's your preference.
You'll also receive the video recording of our session!
Frequently Asked Questions
Can I get a refund if I'm unhappy with my purchase?
No refunds will be issued for this single online purchase once your appointment is made and I have started working on your chart. This session takes a great deal of preparation.
I will do everything possible to provide you with a clear explanation of your Human Design and the tools to take you further in learning more.
How do I schedule my appointment?
Upon purchasing this session, you'll receive further instructions on how to book a time for your appointment.
Can I purchase this coaching more than once?
This purchase is for one Human Design reading and a week of support.
If you find yourself wanting more help in implementing your Human Design to move you through particular health & life experiences (especially if you're needing to actively HEAL an aspect of yourself that has been conditioned), then I suggest you consider my Holistic Health Coaching single sessions or packages.
Example Featured Products
Showcase other available courses, bundles, and coaching products you're selling with the Featured Products block to provide alternatives to visitors who may not be interested in this specific product.